Tissues are essential to our daily lives. From the kitchen and bathroom to the living room and bedroom, a lot of us like keeping them within arm's reach. While tissues are useful in more ways than we can imagine, tissue boxes aren't much of a sight.
Besides, they aren't durable enough to protect the tissues inside them. This in fact, is a major reason why people have started investing in a facial tissue box holder. Tissue box cover or holder may sound like a silly idea at first. But if you use an excessive amount of tissues, you will surely want to consider buying one. And if you're already interested, we have a buying guide that you can follow.
Different Shapes of a Tissue Box Cover
Tissue boxes come up in different shapes and so do tissue box holders. Whether you're buying online or straight from a store near you, here are the varied shapes you will come across:
Square
This Tissue box holder will have equal dimensions on all sides. It's a practical choice for those looking for an elegant yet less-space-taking option.
Horizontal or Rectangular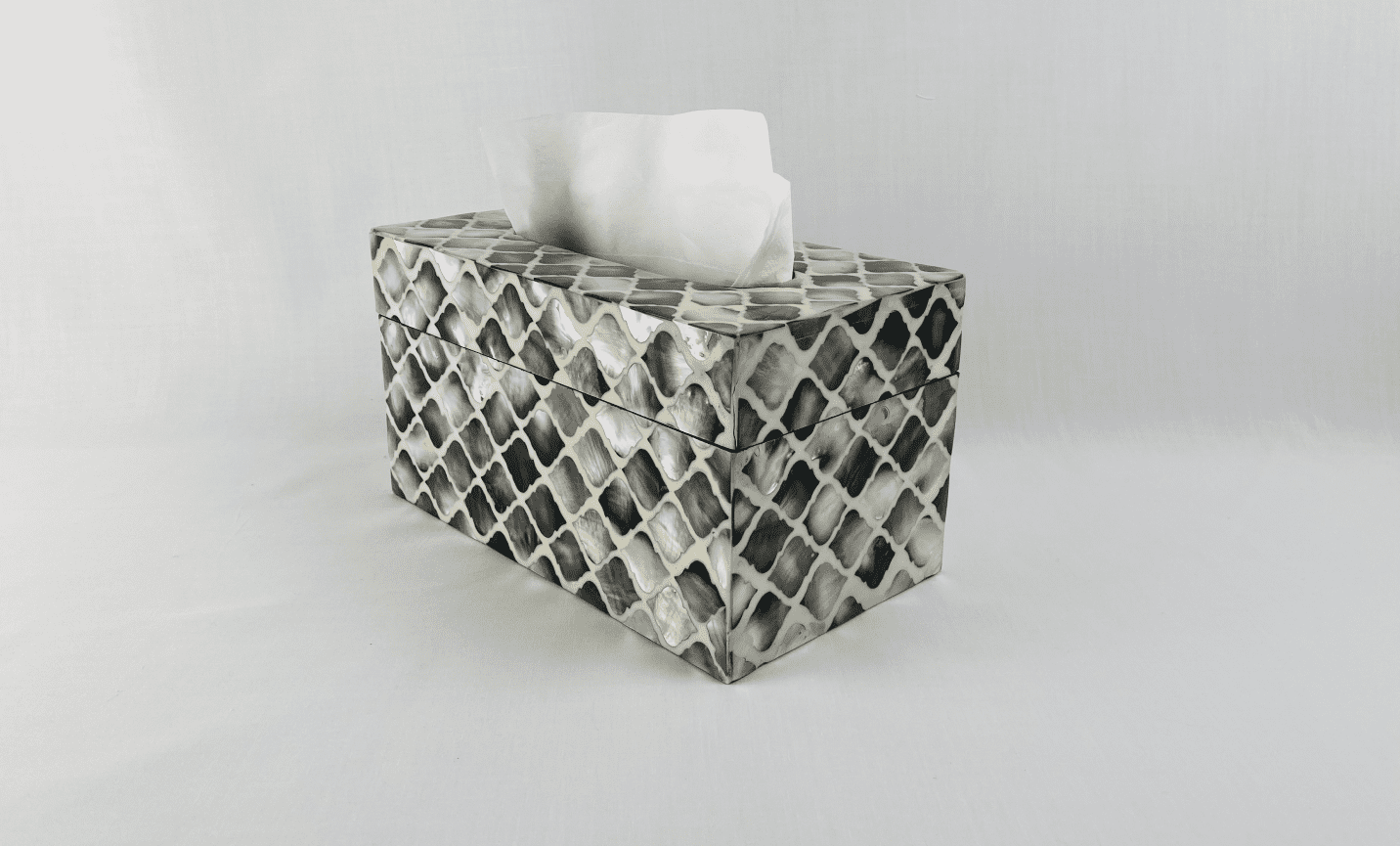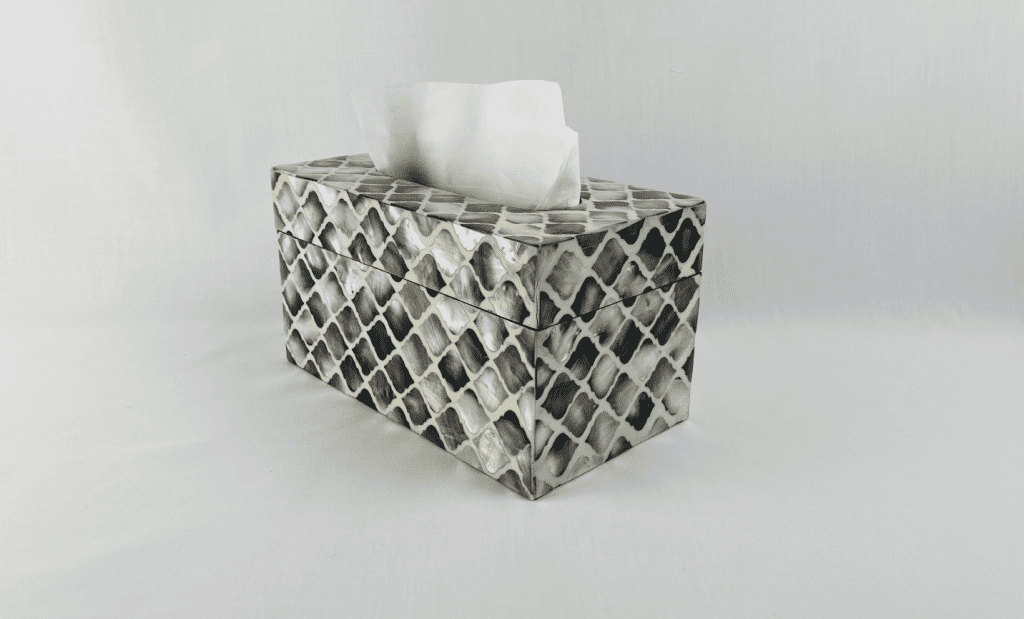 We've all seen and used rectangular tissue boxes. A regular tissue box comes in a horizontal shape only and is actually the most preferred choice among homeowners. This is why you'll come across a diverse range of tissue box holders in the same shape. It consumes more space than the square-shaped one but is perfect for large families, especially with kids. They're simple to refill too.
Tower
A tower-like tissue box cover is relatively new and we think it's the best one out there. The size is ideal for smaller tables such as your bedroom side table or make-up table. The additional height makes it convenient for you to grab a tissue too – what else do you need?
We suggest applying glue on the bottom to fix the box holder to the table if you're worried it will fall occasionally.
Facial Tissue Box Holder Standard Size
Tissue boxes come in a variety of shapes and sizes. The rectangular ones are the commonly used ones though.
To determine which tissue box holder size to purchase, you first need to consider where you want to place it. For instance, if you want to place it on the dinner table, you wouldn't want the size to be too large that it takes up more space than other items on the table. Nestaire's 143 mm x 143 mm x 141mm will be a perfect choice for you in that case.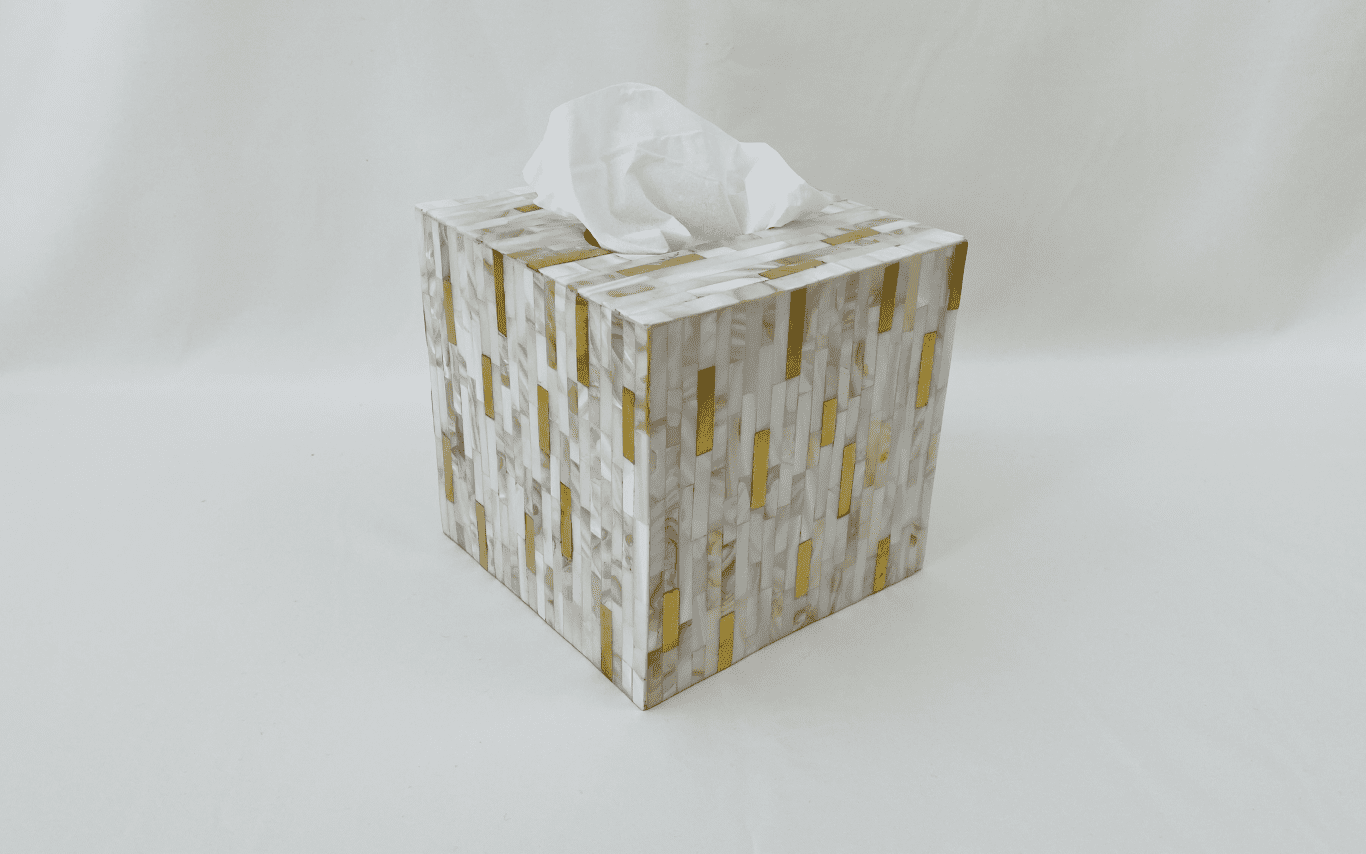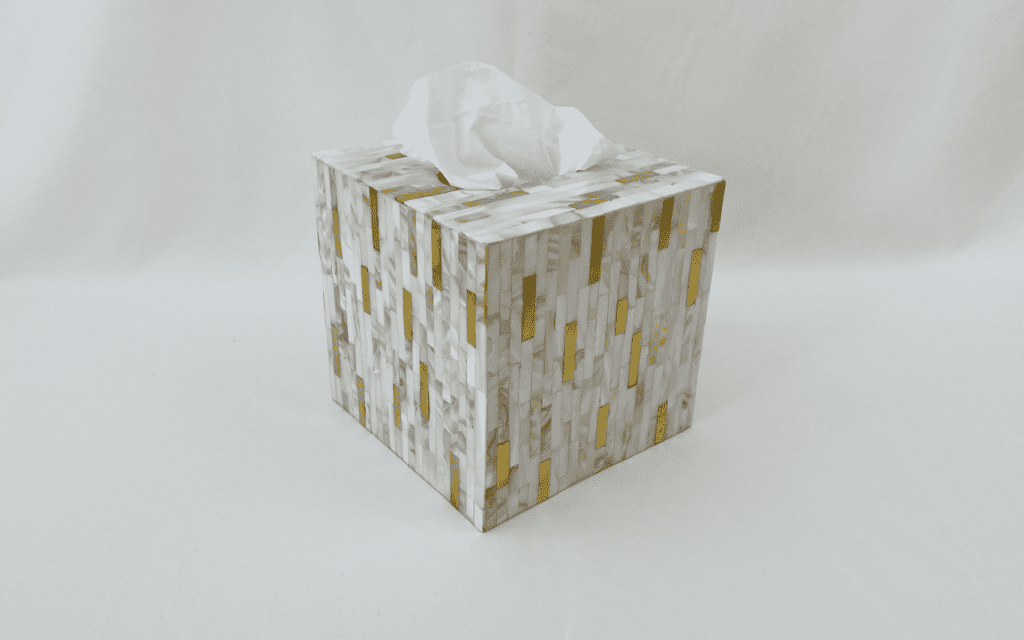 This beautiful tissue box cover offers a glamorous appeal. It is covered with white pearl and brass on the outside and with posh Shaneel cloth on the inside.
It's super easy to maintain as well. Just make use of a damp cloth to clean the tissue box holder (exterior) from time to time.
Varied Tissue Box Holder Materials
If you're specifically looking for a facial tissue box holder– you're most likely to stumble upon materials like cardboard, wood, and metal.
Out of the three, cardboard has the weakest frame which means it lasts as long as a general tissue box itself. The assortment of designs for these holders is humungous though. You can invest in multiple tissue box holders at once and change as and whenever you feel like.
The Wooden ones are a sturdy choice. They're becoming increasingly popular these days and are a top choice among home-makers. The best thing about them is they're easily available in both square and rectangular shapes, so you don't have to compromise your choice. The bamboo tissue box covers in particular are super stunning and add a natural look to any place.
Last but not least are the Metal tissue box holders. These are a little on the costlier side but the style and chic they bring to the table are unrivaled. You must consider purchasing them if your budget allows, you wouldn't want to go back to any other material after that.