A box of tissues might not be an eyesore for everyone, but for some, leaving those cardboard tissue boxes out in the open is practically an interior design crime!
If you're one of those who do your best to hide yours while still trying to maintain its utility, we've got just the solution for you – a designer tissue box cover!
Stunning Tissue Box Cover Designs to Dazzle your Home
Today, a majority of tissue box users prefer having a facial tissue box cover that fits well with their home décor. There are many who believe fashion trends apply to the humble yet practical tissue box as well, which is why they should be treated like other accent pieces around the room just like a serving tray on the table and a cushion or throw on the sofa.
If you want to transform the bored feel of the tissue boxes around your home into a luxurious appeal, consider the elegantly modern classics we are going to talk about in this post. Once you set eyes on something as magnificently handcrafted as our pearl tableware, you may not want to stop at the facial tissue box holder range mentioned below!
A Spectacular Designer Facial Tissue Box Holder Range for You!
Without further ado, let's take a look at the selection of the very best tissue box holders you've been waiting to explore:
1. Mother of Pearl Facial Tissue Holder LUXE
The trailing pattern of gold strips evokes the sleek aspects of modernist design, and it's made using the real mother of pearl, which gives all our pieces a warm, lustrous glow. Given its spacious cubical shape, you can place standard square tissue boxes inside without having to remove all the tissues from the cardboard box.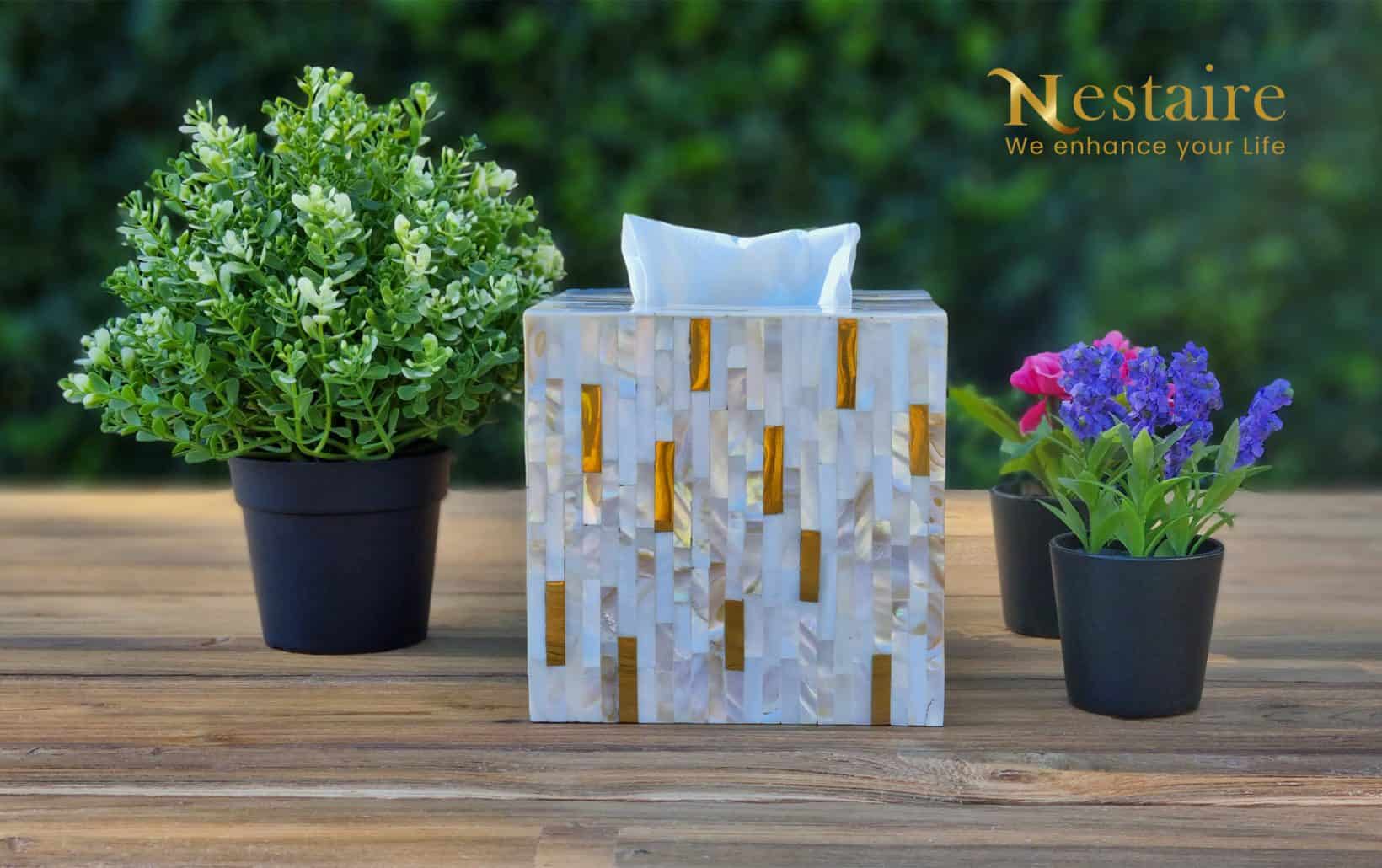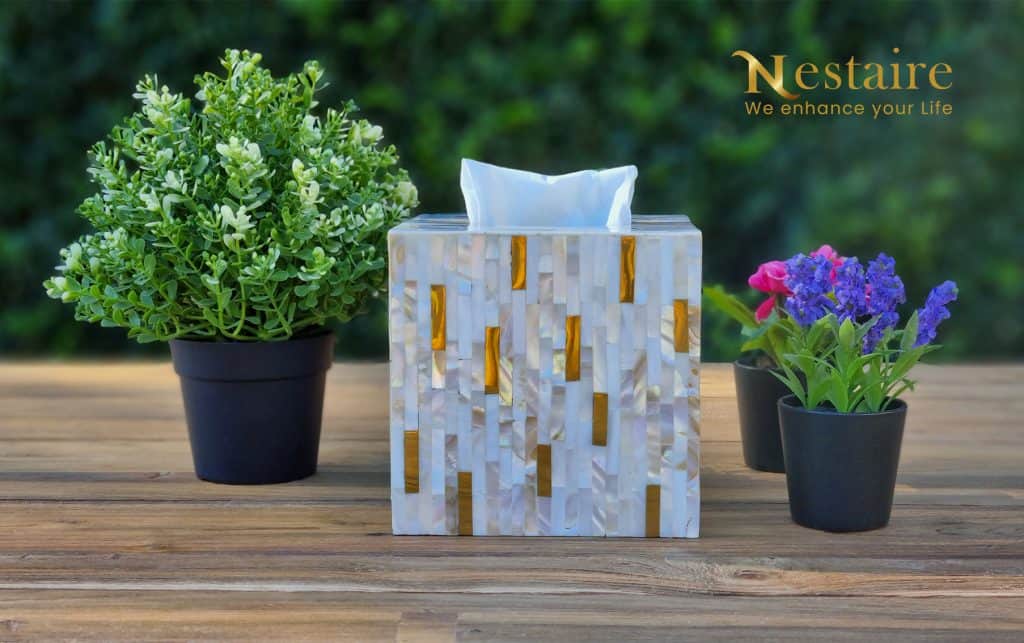 2. Mother of Pearl Facial Tissue Box Cover RITZ
Whether you're trying to fix some errant makeup, enduring another allergy season, or wiping a few stray tears while watching your favorite weepie for the twentieth time (because why not?), it's a great idea to keep your trusty box of tissues handy.
And with a tissue box holder like this – you can spot it easily in the room and instantly reach for it without fearing its appearance. Just make sure you take the tissues out from the box to fit them in the snug, velvety interior of this marvellously handmade creation.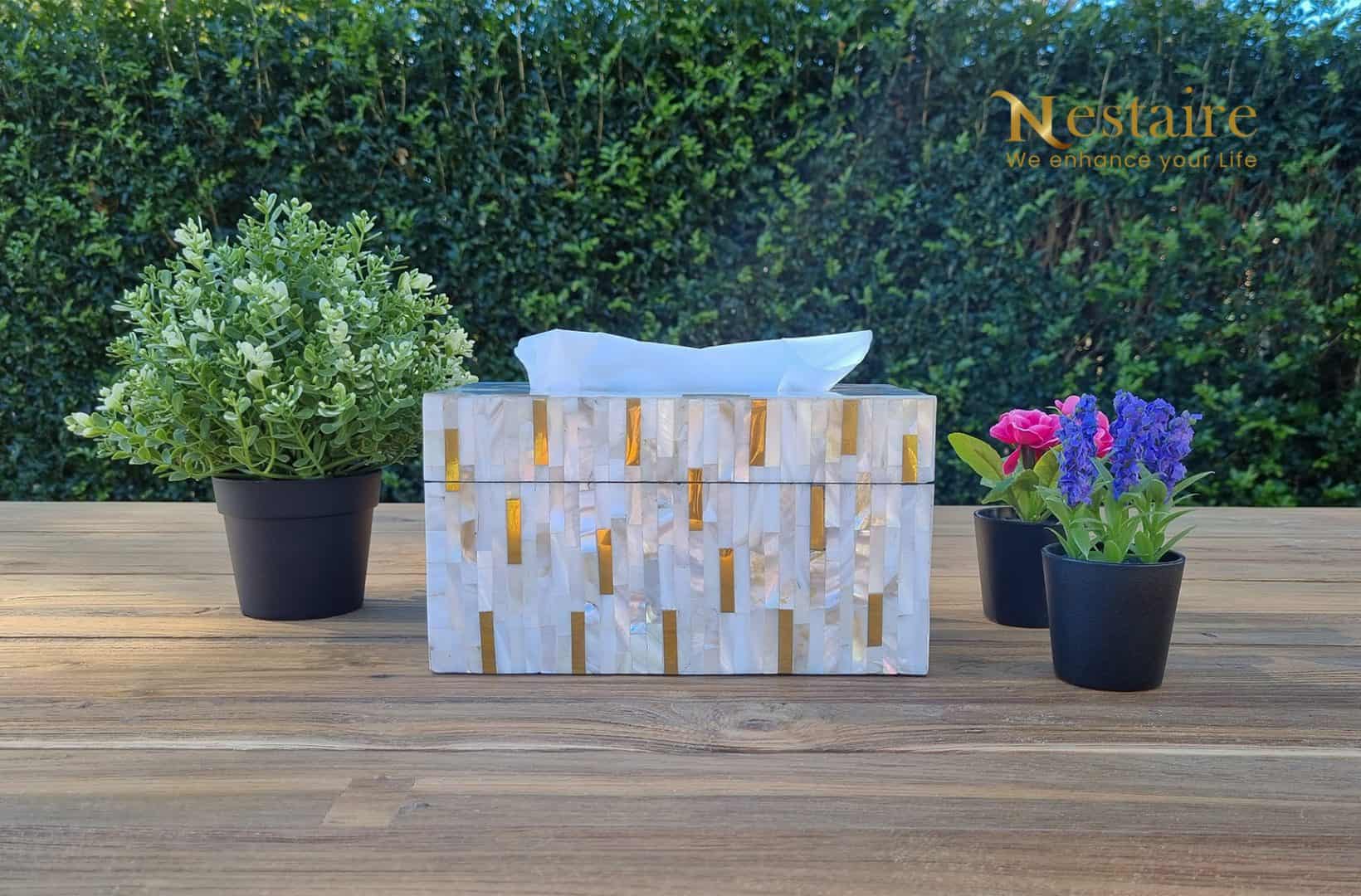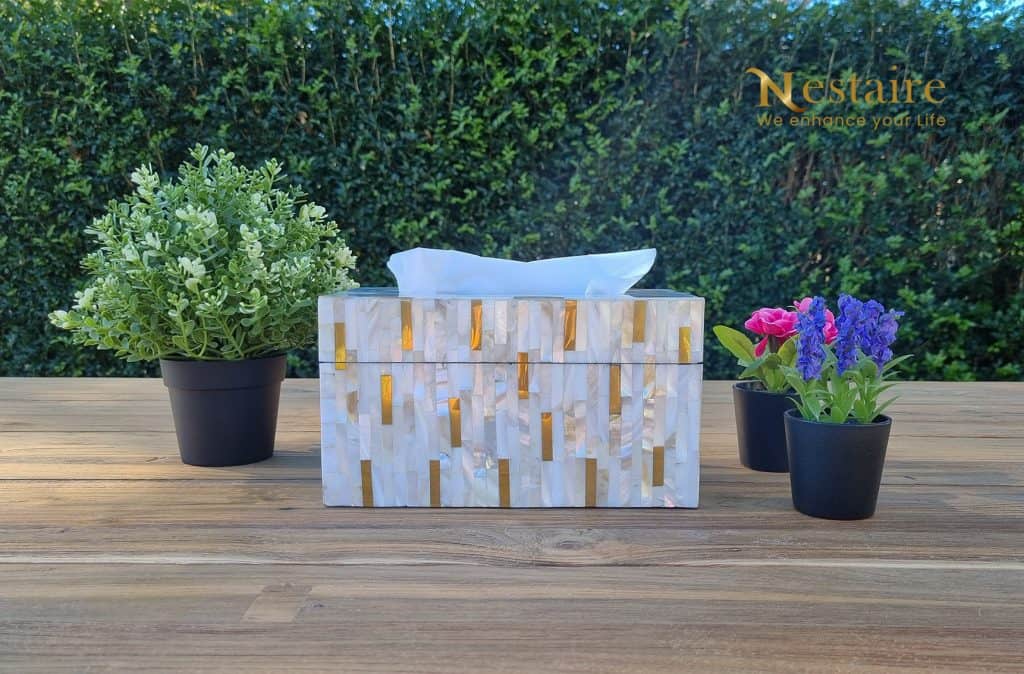 3. Mother of Pearl Facial Tissue Dispenser PLUSH
Just as many people frown upon those little bottles of sanitizer hanging from a gorgeous bag, you're sure to find many who will disapprove of keeping your tissues exposed. After all, you are likely to ruin the painstakingly-curated collection of living room decor or bathroom accessories instantly with an unimaginative tissue box cover.
Enter our plush tissue box holder – great for a standard rectangular box of tissues (with the box removed, of course). Just lift up the lid to place the tissues in the supersoft Shaneel interior and place it wherever you like!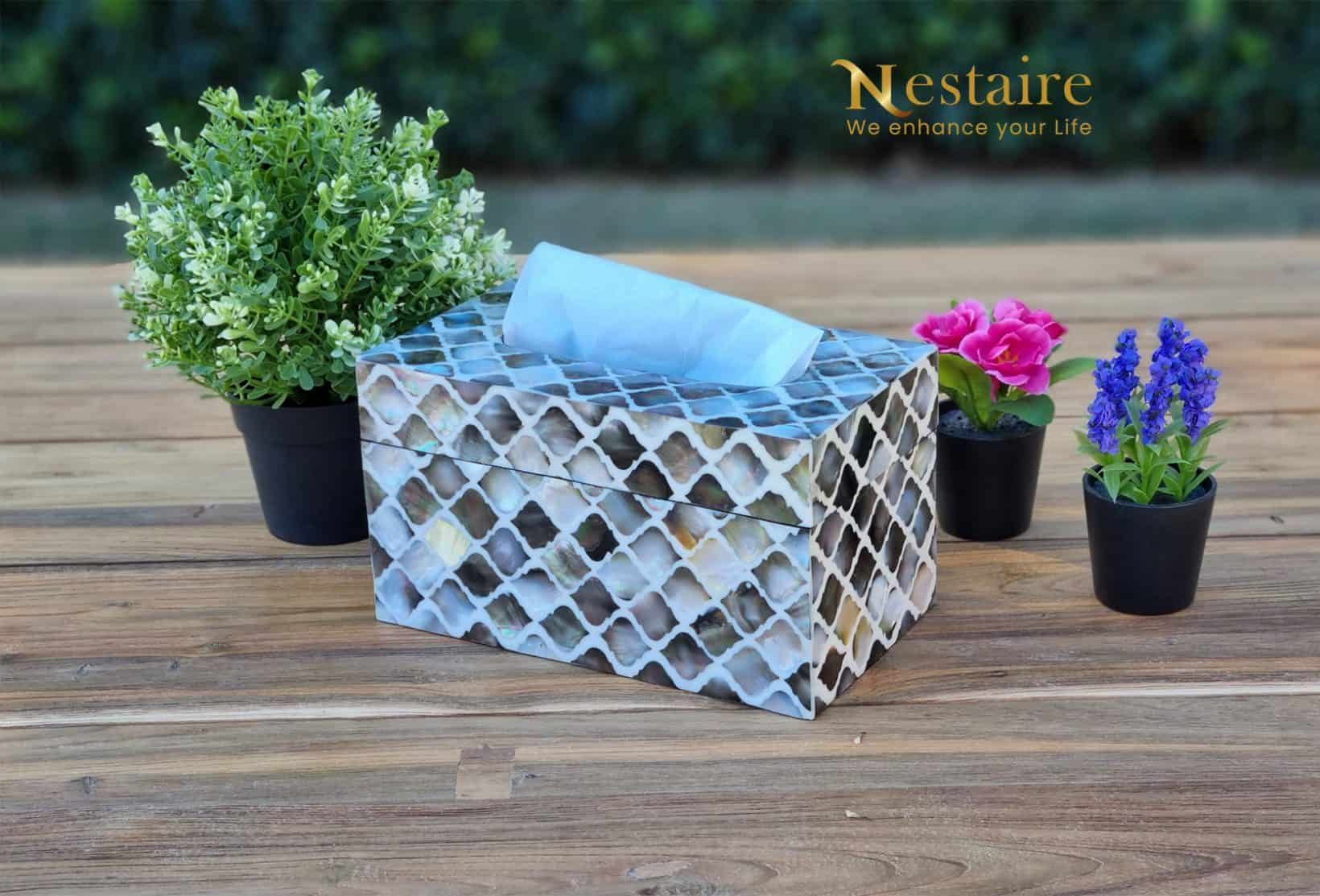 4. Mother of Pearl Facial Tissue Dispenser BLISS
Even if you only buy the most "stylish" geometric\anime printed tissue boxes, you are going to forget that Limited-Edition Kleenex once you take a look at this breathtaking facial tissue box holder.
With an exquisite square-shaped pattern that reminds one of hand carved marble architecture, you are not just making your tissues easily accessible – you're doing so in a highly impressive manner! Suitable with any square shaped tissue box cover that's available at your local supermarket.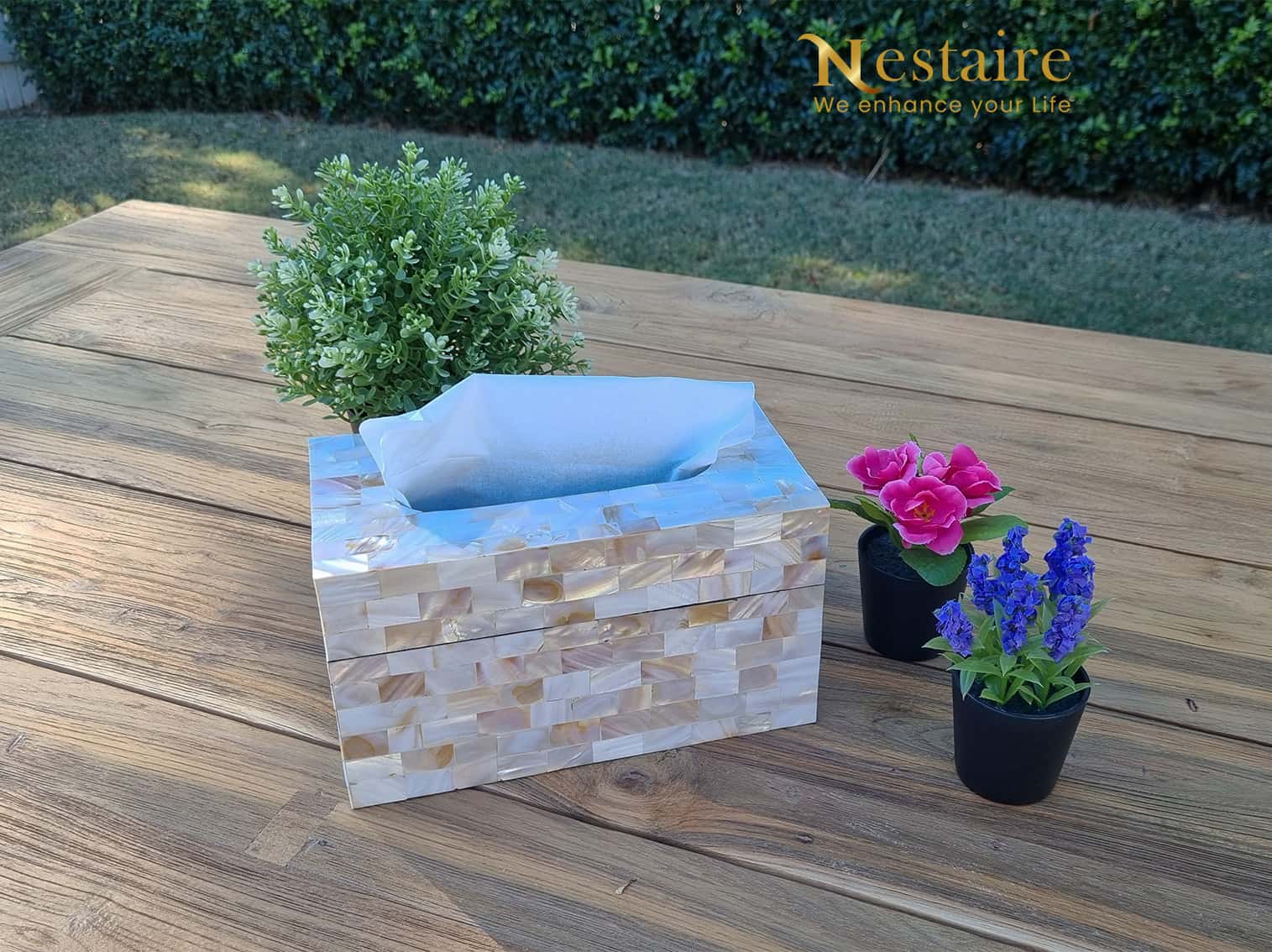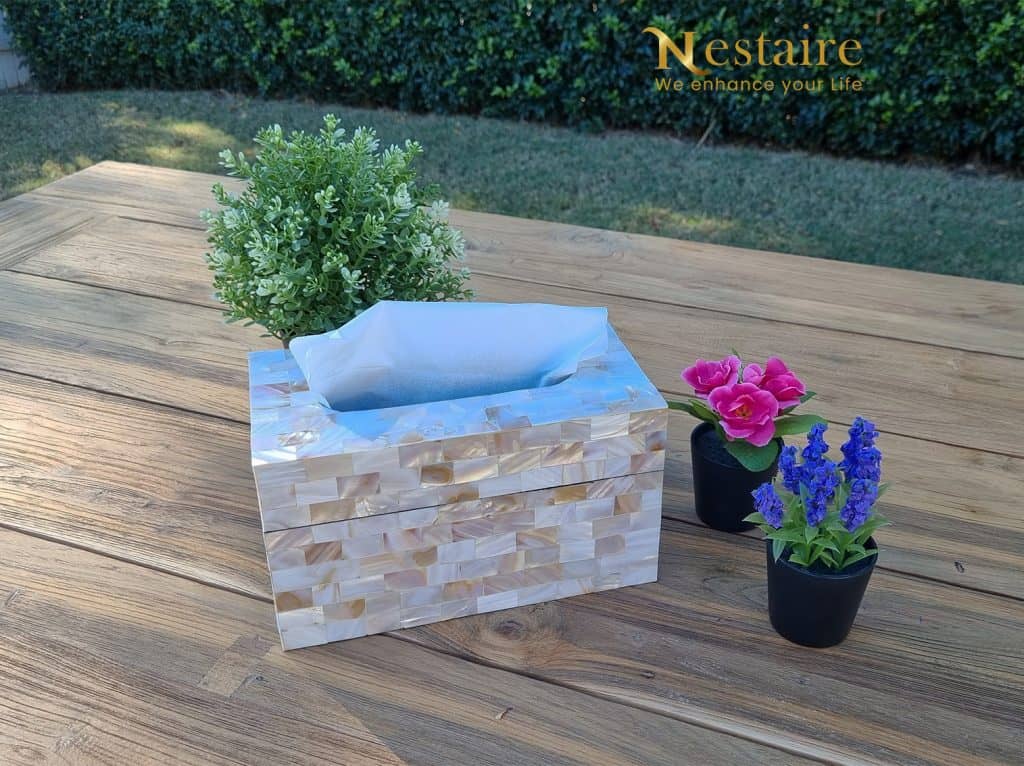 Perhaps the best part about these products is that they have been individually crafted by skilled artisans and are exclusively available at Nestaire's online store. Get ready to showcase your appreciation for finer things in life with our unique range of products!
READ ALSO:- Buying a Facial Tissue Box Holder: A Helpful Guide