Coasters on a clean table do more than just look good: they serve a purpose other than contributing to aesthetics. These palm-sized mats are placed to protect the surface below from burns or stains, but pick the right set and they can also become a part of your decor.
If you're considering purchasing a set, you are sure to encounter thousands of designs in the market that will leave you confused. Fortunately, Nestaire offers a couple of designs that will blend in with practically any type of decor. They are mentioned in this blog along with the most common materials of coasters found these days.
Types of Materials Coasters are Made From
Coasters are also made from a variety of commonly available materials, such as the following:
Wood – Wood is a bad conductor of heat so it's one of the most popular materials for coasters that can handle both hot and cold items. It also brings a sense of natural charm into spaces and is affordable.
Metal – Although this material isn't as versatile when it comes to protecting the surface underneath from the temperature of the drink above, it does bring a unique touch to your space, offering a serene vibe to wherever it's placed.
Glass – Glass brings an impressive modern appearance to your space with the ability to cast a luxurious impression on visitors. It can be moulded easily, making it perfect for a vast range of tableware.
Ceramic – It is manufactured by firing and glazing clay at extreme temperatures, leaving a hard yet brittle substance that's widely used in designing various items such as plates, cups, coasters, and so on.
Marble – Another commonly used material, marble brings a level of sophistication to your decor. It is also designed in a wide range of colour combinations and veining for many unique looks. However, real marble coasters can be expensive, so many people prefer plastic lookalikes instead.
Cork – This water-repellent material is quite light, extracted from the barks of cork oak trees. It is also an inexpensive material, aside from being quite buoyant and heat resistant. All these properties make it ideal for turning into coasters and similar tableware items.
Nestaire's Beautifully Crafted Mother of Pearl Coasters
These coasters by Nestaire are both tasteful and functional:
Mother of Pearl Coasters Round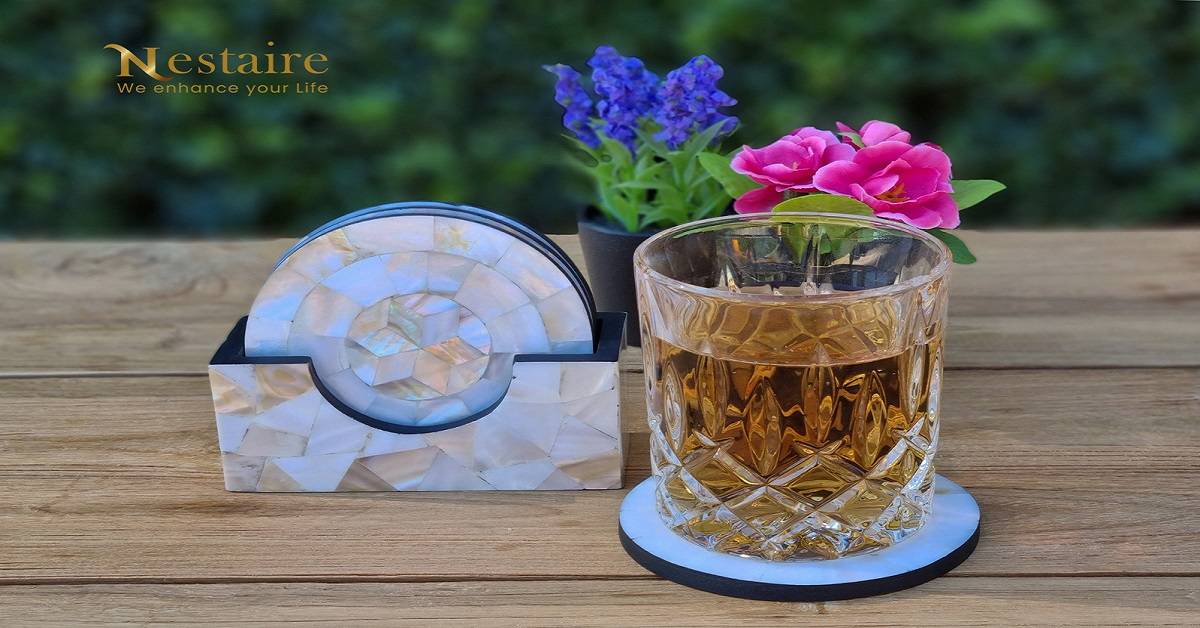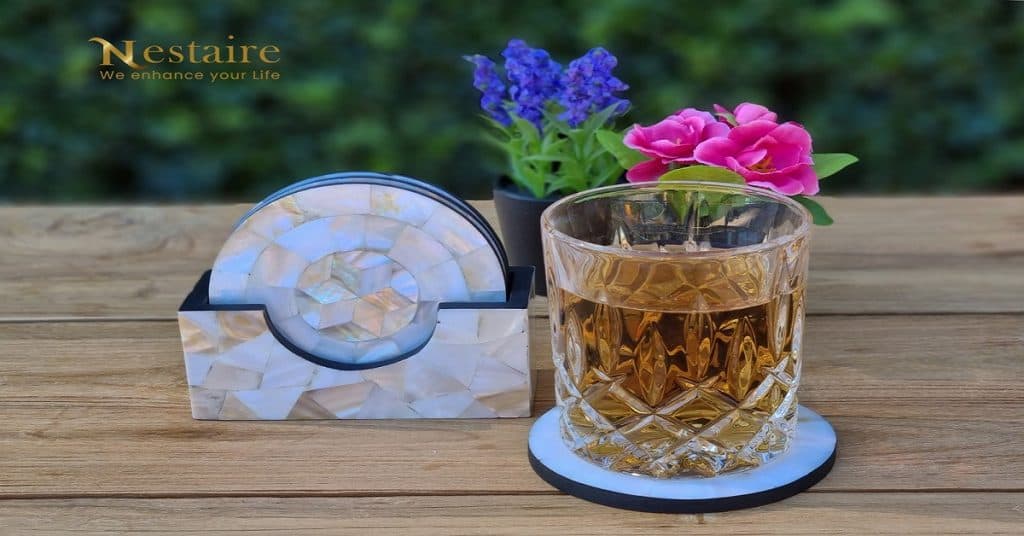 Items made from Mother of pearl often have a way of standing out and blending in with the chosen decor at the same time. Take our luxurious hand-crafted Set of 4 coasters for instance. This attractive, durable set comes with a matching stand and is embellished with gorgeous and spectacular white pearls with a touch of brass.
Our coasters won't just help you save your table or desk from hot beverages – they are functional works of art ready to be used as part of your decor. As for their size, these are spacious enough to accommodate most standard-sized mugs, cups, glasses etc.
Mother of Pearl Coasters Square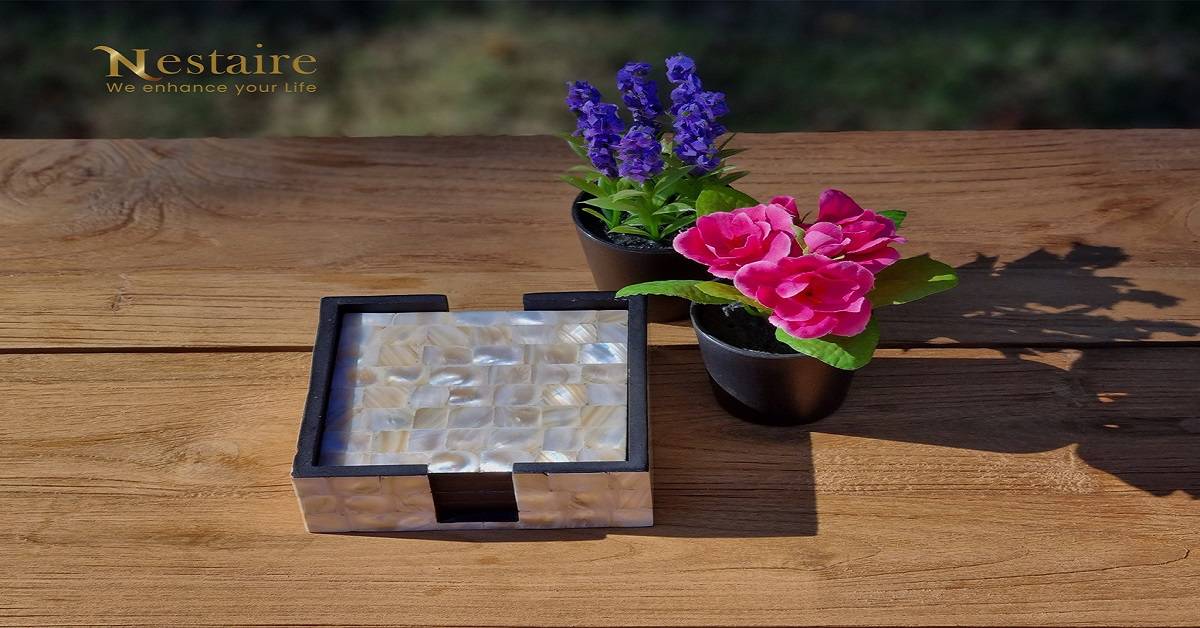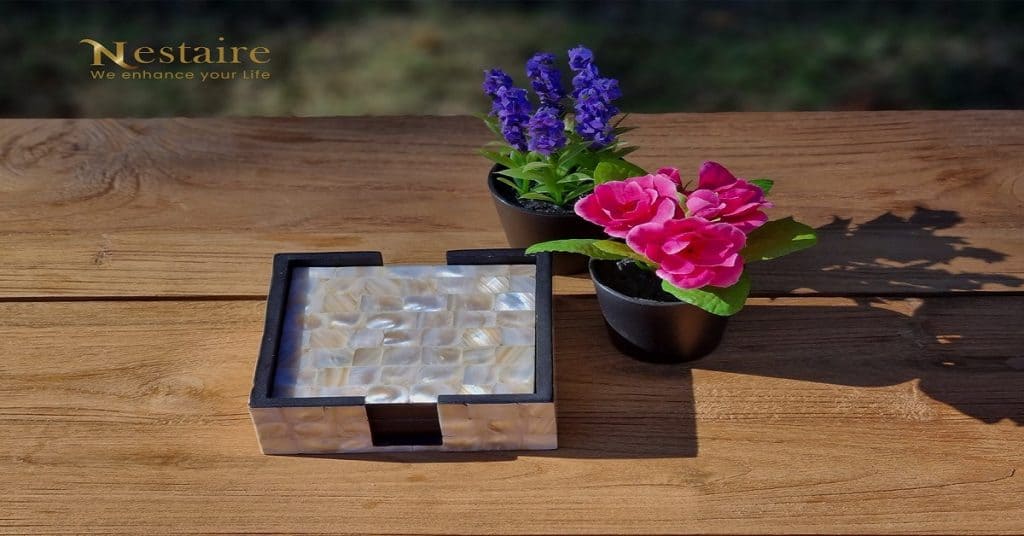 These Mother of Pearl coasters can turn any table or surface into a gorgeous setting for your hot or cold drinks. These coasters not only protect your tablecloth from getting damaged from excessive heat, but they also play an incredible role in improving the table's appearance.
Each piece is hand-carved by talented artisans, just like the rest of our product range. At Nestaire, we have a collection of Mother of Pearl coasters, serving trays, facial tissue box holders and more.